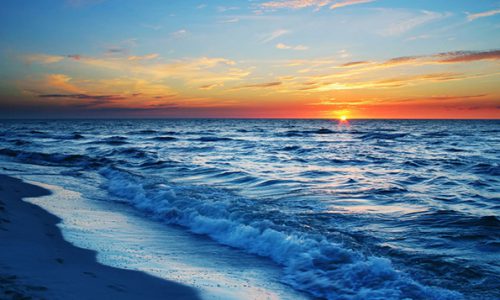 Iran Travel Information for Omanis
Since Omanis can travel to Iran without a visa, many Omanis travel to Iran annually for different purposes, such as receiving medical services or just visiting tourist attractions in Iran. What is known as the general term of Shomal among Omani tourists, is, in fact, the northern part of Iran including the three provinces of Golestan on the southeast, Mazandaran on the south, and Gilan on the southwest of the Caspian Sea (the largest lake in the world), and north of the Alborz Mountain Ranges. The Iranian Caspian Sea tours and the picturesque beaches are among the most popular destinations for neighboring Arabian countries.
The northern part of Iran is a stunning combination of pristine nature and diverse culture. There is a lot to see, taste, and do in the north of Iran. The diversity of attractions is so amazing that could satisfy different tastes from adventure seekers to culture vultures and medical tourists.
Moreover, the Caspian Sea provides 90 percent of the world's caviar. The southern part of the Caspian Sea is home to Sturgeon, the fish prized for its caviar. You can find the finest caviar named Beluga in Gilan and Mazandaran provinces. It is also a precious souvenir from the northern part of Iran.
Here, you will find about the attractions, the activities, the food, and other information on the most popular destination for Omanis in the north of Iran.
In line with sustainable development and responsible tourism, Thetis Persia Tours cooperates with local communities and supports tourism activities such as eco-lodges and guest houses in rural societies.
Mazandaran Province
Kelardasht > Chalus > Namakabroud > Ramsar > Dalkhani Jungle > Javaherdeh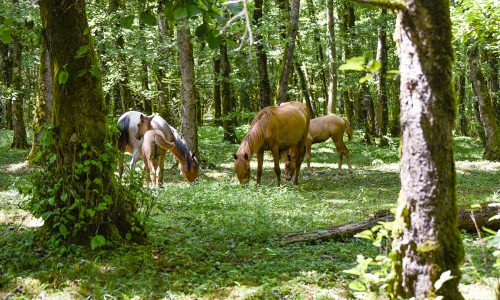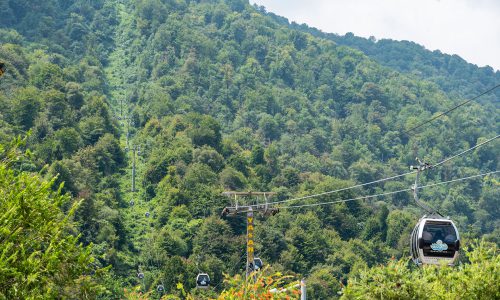 Mazandaran is one of the most beautiful provinces of Iran. Known as Iran's northern tourism hub, it hosts many travelers from other cities of Iran as well as neighboring countries every year. The pristine nature, scenic sceneries, towering mountains, and pleasant weather have made Mazandaran one of the top destinations for Omani tourists.
The province of Mazandaran is rich in plant resources. Here and there, you will be fascinated by colorful flowers, ornamental plants, orchards, and citrus trees, especially orange and kiwi. The land is so fertile that most portion of the fruits provided in the region is exported to other cities and countries. Mazandaran is a destination for all seasons. Most of the flowering plants bloom in the spring, yet some blossom in winter. Most crops are harvested in the fall and the colorful leaves multiply the beauty of the region.
Mazandaran embraces amazing attractions such as Badab-e Surt Natural Springs (a range of stepped travertine terrace formations), Filband Village (a village above the clouds), Lar National Park, Elimalat Lake, Sisangan Forest Park, Historical Veresk Bridge (also called the Victory Bridge), Alasht in Savadkuh (the birthplace for Reza Shah Pahlavi), Churt Lake, Lafoor Forest (part of Hyrcanian Forests), Kandolus village with its Botanical and Ethnological museums, Gomishan Cave, ancient Hyrcanian Forests (UNESCO), Do Hezar Forest, Anjili Woods, and Shahandasht Waterfall (the longest in Mazandaran province).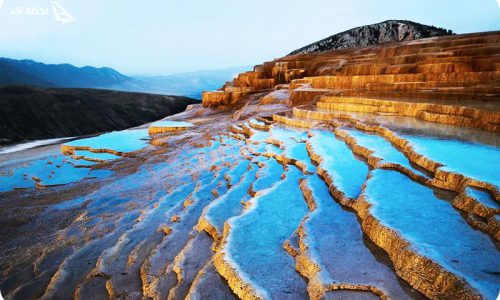 Due to the short distance between the cities of this province, they can be visited easily. The province is located along the southern coast of the Caspian Sea and is a neighbor to the provinces of Golestan, Gilan, and Tehran.
It takes about 4 hours from Tehran to reach Kelardasht in Mazandaran province. Extended along the foothills of Alamkuh (the second tallest peak in Iran with 4850 m height), Kelardasht, with pleasant weather and eye-catching nature, is one of the most popular tourist destinations in Mazandaran. When it is hot in other parts of the country, here it is as cool as spring.
Kelardasht is the main center for aqua farming, especially rainbow trout. Azo Forest, in the middle of Kelardasht, is also the habitat of wild animals. Kelardasht is enclosed by Abbas Abad Jungle from the north. Some other natural attractions in Kelardasht include Valasht Lake and Akapel Waterfall.
48 km away north, we get to Chalus. Chalus Road is known as one of the most breathtaking winding roads in Iran. It is well-known for Namakabrud Telecabin and its tourist-recreational complex within 12 km west of Chalus. The complex offers various kinds of recreational activities such as a zip line, boating facilities, karting, suspension bridge, shopping center, and restaurant. The cable car is one of the best in Iran from which you will be amazed at one of the most scenic sceneries of the Hyrcanian Forests (UNESCO) while facing the sea. Just in a short distance, you will be surprised by the marvelous peaceful sea.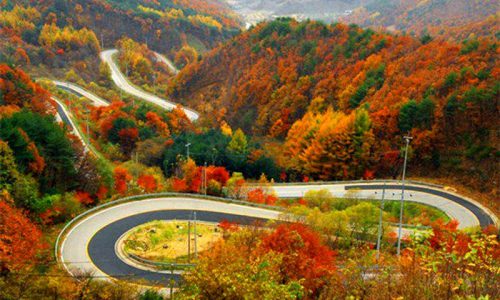 Further to the northwest, you will be amazed at the beauty of Ramsar, known as the bride of cities of Mazandaran, lying on the coast of the Caspian Sea. One of the main sites to visit in Ramsar is the Marble Palace, dating back to the Pahlavi era (1937). The massive building is located in the middle of a large beautiful garden. The palace was used as the royal residence in summer as well as a place for holding various political meetings at the time.
Casino Boulevard is another sightseeing in Ramsar where you can enjoy a pleasant walk. Another natural attraction in Ramsar is the mysterious Dalkhani Jungle with high trees and thick fog. The best time to visit Dalkhani Jungle, known as the Paradise Corridor located 30 km southeast of Ramsar, is in the late spring. Dreamland Amusement Park is another place you can have some fun with your family.
Located 26 km away from Ramsar, you will visit Javaherdeh, literally meaning the Village of Jewel, lying in the Alburz Mountain ranges like a hidden gem. It is one of the most famous tourist sites in Mazandaran province.
What to Do / See in Mazandaran
Namakabrud Telecabin Complex near Chalus

Marble Palace Museum

Dalkhani Jungle

Hyrcanian Forests (UNESCO)

Eye-catching views and villages

Water activities

Trekking

Shopping
Where to Stay in Mazandaran
The 4-star Parsian Ramsar Beach Motel is recommended to Omanis who travel to Mazandaran province. It is located only 60 m away from the Caspian beach.
Bam-e Sabz Hotel is another option located at the height of 700 m in the Ramsar Green City Complex. This hotel consists of two sections, the forest village, and VIP suites. The main building of the hotel has 6 stories and the cable car station is located on the 5th Staying in the forest cottages lets you enjoy the eye-catching landscape of both forest and sea.
Khoone Geli, located near Ramsar, is a two-story Eco-lodge made of wood and thatch in the middle of a 7-hectare garden. The roof is built of handmade clay and most materials used for building are recyclable. The accommodation has a capacity of 10 to 13 people. There are a swing and a tree house in the garden for children. The guests are served local food and products. They can buy some souvenirs from the store in the garden. The staff holds occasional workshops and day tours too.
To reserve budget-friendly apartments and other kinds of accommodation, please contact us.
What to Buy / Eat in Mazandaran
Local handicrafts and agricultural products, dairy products, fish, pickles, and olives are some of the best souvenirs from Mazandaran. Sohan Konjedi (sesame and sugar or honey) is a kind of sweet nutritious snack that most travelers like. But the best-known edible souvenir of Mazandaran is its cookies. The two brands of Kolooche Naderi and Kolooche Noushin are the most popular (kolooche means cookies). These two companies produce cookies with different tastes including walnut and coconut.
Gilan Province
Sarvelat > Lahijan > Rasht > Saravan Museum > Qale Rudkhan > Fuman > Masuleh > Bandar Anzali > Heyran Pass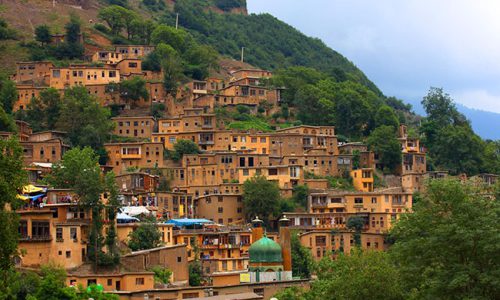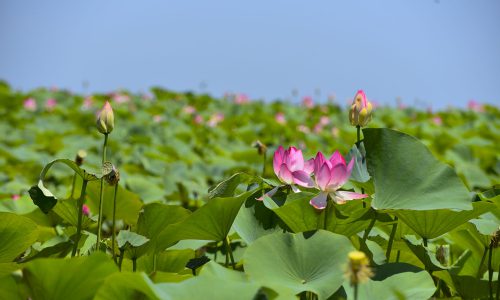 Gilan is one of the most spectacular and greenest provinces of Iran. It has become one of the most popular tourist destinations among Arabs due to its mild and pleasant climate, breathtaking pristine nature, hospitable people, countless tourist attractions and facilities, and delicious local foods. Its beauty is so striking that Gilan could be called a paradise for tourists.
This lush and prosperous province embraces the most beautiful jungles, such as Gisum Forest Park, waterfalls such as Laton, well-equipped awesome beaches like Chamkhaleh, fresh mineral water springs such as Damash, hot spas such as Alidashi, spectacular lakes such as Saqalaksar, high peaks including Dorfak dormant volcano (2700m), vast green plains such as Javaher Dasht, ancient Hyrcanian Forests (UNESCO), Forest Parks including Saravan and Masouleh, breathtaking villages such as Daylaman, Masal, Subatan, and Talesh, lush tea and rice paddy fields, citrus orchards, and the UNESCO registered Rasht as the Creative City of Gastronomy.
Damash is also well-known as the protected habitat of Susan-e Chelcheragh (Chandelier Lily), one of the rarest flowers in the world that is registered on the National Heritage List as an endemic species in Iran. Another habitat of this flower is Lankaran in Azerbaijan. The Chelcheragh Lily Festival is annually held in early June in Damash and lasts until early July. This time is the flowering period of this rare flower.
One of the scenic villages in the middle of the Alborz Mountain ranges in Gilan province is Sarvelat Village with pleasant weather, spectacular orange orchards, roaring rivers, and forested mountains. At the heights, you will be amazed at the amazing landscape of the surrounding areas as well as a view of the Caspian Sea. Here is a place where you will be immersed in both peace and beauty. What has put this village on the list of the best places to visit in the north of Iran is the popular Khavar Khanoom Restaurant. The best time to visit Sarvelat is spring and fall.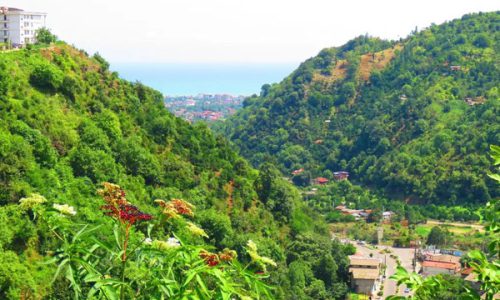 The next city which is a must-see is Lahijan. Lahijan is one of the greenest cities in Iran. It is also known as the tea capital of Iran due to the vast tea fields it has. Moreover, it was the first city where the Iranian tea crop was first produced and sold in the market. One of the popular places in Lahijan is Bam-e Sabz (green roof) cable car with 1500 m length. Riding on it, you will enjoy the awe-inspiring scenery of the region.
Another worth-to-visit place in Lahijan is Lahijan Tea History Museum, the only specialized tea museum in Iran. Lahijan is best known for its tea and the best tea in Iran is harvested in this region. It is interesting to know that tea cultivation was first introduced in Lahijan by Mohammad Mirza Kashif al-Sultaneh Chaikar in late 1898. Due to his efforts in making Iran self-sufficient in tea production, his body was buried in this museum. To pre-plan for a Tea Tasting Day Tour in Lahijan, just contact us.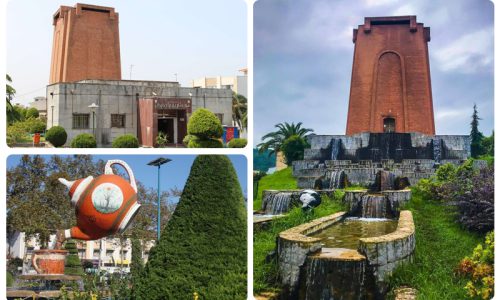 Rasht, registered as the Creative City of Gastronomy on the UNESCO list, is the capital of Guilan Province. It attracts annually many tourists, especially gastronomers and foodies, from different cities and countries. One of the popular places in Rasht among visitors and tourists is Rasht Local Bazaar. They spend hours here looking for souvenirs and enjoying the traditional architecture of the bazaar, with caravanserais, arches, and squares. You can find manifestations of the folklore culture of Gilan province on every corner. Hundreds of residents of towns and villages near Rasht come here every day to sell a variety of colorful local products such as agricultural products, fish, local food, etc.
The roofless Bazaar, including 14 caravanserais connected by different lines and covering an area of 24 ha, is located in the old central district of the city near Municipality Square. The Square was registered as a National Heritage one year before the revolution in 1979. The white building of the municipality and its clock tower- built from 1954 to 1957 – are considered a symbol of this city.
On the way to Fuman, an old city in Gilan province, we will visit Gilan Rural Heritage Museum in Saravan Forest Park. It is the first eco-museum in Iran. This museum is a village with an area of about 260 ha displaying traditional Gilani lifestyle, traditions, houses, clothing, food, handicrafts, celebrities, ceremonies, and festivals, such as the Yalda Festival (the longest night of the year). Walking through the area, you will see people in local costumes singing local songs, baking bread, making local products, and serving drinks. The houses in this museum village are real rural cottages. A total of 25 cottages from 7 villages in different parts of Gilan province were carefully moved here from their original locations. These houses date back 65 to 180 years ago.
Fuman is an old city known for its delicious cookies and souvenirs, as well as colorful sculptures. 20 km away from Fuman, you can visit Qaleh Rudkhan or Rudkhan Castle. The construction is the largest brick castle in Iran and one of the fantastic places to visit in Gilan. Built of brick, stone, wood, mortar, and lime, it is a well-preserved example of the smart and strategic architecture of military fortresses in the past. Dating back to the Sassanid era (224-651 AD), this fort is a combination of amazing scenery and exciting history. Here is a place with pleasant weather, pristine nature, and indescribable peace. At the foot of the castle, you can also try delicious local foods and buy local souvenirs.
After passing a winding road along the river that ends up in a wonderful forest, you have to climb about 1000 steps to reach this massive once invincible castle, covering an area of about 2.6 ha. On top, you will be surprised by the fascinating view. The height of the castle changes between 670 m and 715 m above sea level, and its 65 towers and ramparts are 1500 m long and 15 m high. The entrance of the fortress is located on its northern side flanked by the two towers. The castle was renovated during the Seljuk period (918 to 921 AH) and later was used as one of the military bases by the Ismailis (based in Alamut). Spring and early fall are the best time to visit Qaleh Rudkhan. It takes nearly 4 hours to visit the whole castle.
The next astonishing site is Masuleh Village (the UNESCO Tentative List) with its unique stair-stepped architecture. The route to this city, with amazing nature, is one of the most beautiful roads in the northern part of Iran. Masouleh is a tourist village located in the southwest of Gilan province and is 60 km away from Rasht.
The two-story houses, extended on the steep slopes of the mountains, have been built on top of each other like a stairway so that the roof of each house is the yard of the house above. The houses have been built of stone, wood, and clay. Here, vehicles are banned and you have to explore the village on foot. The roofs or courts serve as pedestrian areas just like the streets. The height from the lowest part of Masouleh to the highest is about 120 m. The clay pots with colorful flowers behind the windows or on the balconies, the dreamy mist covering the town, the peaceful atmosphere, and the different waterfalls add to the beauty of this city.
You can buy local products such as handicrafts like wicker products, knitted socks, jam, and pickles in the local market. The locals are warm-hearted and generous. There are also cafes and restaurants where you can take some rest and enjoy some tea or local food. This beautiful city is cool and pleasant in summer and cold and snowy in winter. Spring and summer are the best seasons to visit Masuleh. The fall is also a good time to be mesmerized by the colorful nature of this city when it is not yet unbearably cold.
The last visit to Gilan province is Bandar Anzali or Anzali Port, the largest port in the north of Iran. It is located 40 km away from Rasht. Anzali Wetland is an invaluable ecosystem with fresh water. It is one of the most popular places to visit in Gilan. Located in the southwest of the city of Bandar Anzali, it was registered in the Ramsar Convention International Wetlands List in 1975. It is one of the main destinations for bird watching, boating, kayaking, and fishing. The reeds as well as the floating lotus flowers on the surface of this lagoon- blossoming in the late spring- add to its beauty. Anzali Lagoon hosts over 100 species of migratory and native birds, as well as 50 species of fish. The lagoon is connected to the Caspian Sea by a shipping channel.
Anzali Aquarium is another sightseeing in the Anzali Free Zone. It is a huge construction resembling a miniature ocean. The aquarium hosts dozens of different fish species from all over the world. The aquarium tunnel is one of the main parts of the construction which is suitable for photography. The tunnel with a 40 m length is located under 3 million liters of water. The complex offers different facilities such as bowling, virtual cinema, game land, a coffee shop, and a restaurant. A part of the complex is also dedicated to exhibiting different types of birds and reptiles. Another place to visit in Bandar Anali includes Anzali Palace Military Museum, going back to the Reza Shah Pahlavi period (1930).
If you go from Bandar Anzali to Ardabil directly, you will be immersed in a spectacular road in Gilan named Heyran Pass. It is 35 km long connecting Astara- the westernmost city of Gilan Province- to Ardabil. The pass is often covered with a layer of fog. On one side of this winding road, there are dense forests and on the other side, there is a deep green valley. Heyran Pass is a beautiful destination for all seasons. It is covered with snow in winter. It is cold and rainy even in summer. Riding on Heyran cable car, you will be amazed at the spectacular scenery.
What to Do in Gilan
Rasht- the Creative City of Gastronomy (UNESCO)

Chandelier Lily National Heritage

Spectacular villages

Bam-e Sabz Cable car

Lahijan Tea History Museum

Gilan Rural Heritage Museum

Rudkhan Castle

Shopping

Bird watching

Boating

Anzali Aquarium

Local foods and cookies

Tea Tasting Day Tour
Where to Stay in Gilan
Moein Farm Hotel in Fuman is a 5-star accommodation 25 km away from Rasht and the international airport of Sardar-e Jangal. It enjoys a peaceful atmosphere and a dreamy view of the tea farms. You can find different kinds of Iranian tea, produced in the northern part of Iran, in the tea store of the hotel. They also sell handicrafts made by local people in the area.
The 5-star Kadus Hotel in Rasht offers a variety of facilities such as an outdoor swimming pool (for adults and children), a clay tennis court, and a traditional restaurant (sofrekhaneh).
The 4-star Sefidkenar Hotel on the way to Rasht-Astara offers different kinds of rooms as well as villas in the jungle and at the beach.
Bordbar Talarkhaneh Ecolodge, built of thatch and wood, is a traditional house in Gilaki style. It is situated in the Khomam area, along the road from Rasht to Bandar Anzali. It has 4 rooms and a great view of the beautiful surrounding. It was built by a weaver and handicrafts trainer. The accommodation is recommended for all seasons.
Another place to stay in Gilan is Gileboom, a two-story ecolodge in the village of Qasemabad Sofla in Chaboksar. It is situated on the highest mountain in Gilan province and is very close to the Caspian Sea and Hyrcanian Forests. It has the capacity for 17 people. The rooms are carpeted with felt and the beds are made of wool. There is also a cottage made of thatch that is called Eco-cottage and has the capacity for 4 people. If you wish, you can also stay in its tree house. The tourists can make a fire in the yard. They can also help pick fruits from the trees in the yard. You can also participate in activities such as trekking and climbing. This accommodation enjoys a friendly traditional atmosphere where guests are served local dishes. Cultural programs such as Sadeh Festival and local music are held here as well.
You can also rent local houses in some villages such as Masuleh. Some villagers rent their houses or apartments to tourists and travelers. It is a win-win situation. On one hand, the price is affordable for tourists, and on the other hand, the local community becomes more economically self-sufficient.
To reserve budget-friendly apartments and other kinds of accommodation, please contact us.
What to Buy / Eat in Gilan
Gilan is a food tourism hub for all foodies- whether vegetarian or meatatarian. The diversity of food in this province is so surprising that Rasht, the capital, was registered as the UNESCO Creative City of Gastronomy. The local food here is so diverse that it is sometimes difficult to choose what to eat.
Here, you can find a short list of the most popular Gilani foods including Anarbij (lamb meatballs with pomegranate sauce), Baqali Qatoq (a stew with beans, garlic, dill, and eggs), Morgh-e Torsh (sour chicken stew), Mirza Qasemi (eggplant and egg with a smoky taste), Fesenjan (walnut stew with meat and pomegranate sauce), Seer Qalieh (a stew with chicken, garlic and eggs), Torshi Tareh (sour herb stew), Kalkabab (eggplant, walnut, garlic, and pomegranate), Aloo Mosama (chicken and dried plum stew), Nardoon Stew (chicken and pomegranate molasses), Kadoo Bareh (with zucchini and potatoes), Vavishka (or Bij Bij, a kind of stew with minced beef), stuffed chicken, stuffed fish, and rice and fish or kebab.
There are also yummy local side dishes. One of the most popular Gilani side dishes includes Zeitoun Parvardeh (olive-pomegranate juice pickle mixed with grated garlic and walnut).
One of the most delicious souvenirs in Gilan is Fuman cookies which are popular among tourists and travelers who travel to Gilan. The two-layer cookies are made of walnut, cinnamon, cardamom, nutmeg, sugar, and oil. The cookies are cooked in the oven and decorated with a stamp. Another traditional Gilani sweet is Reshteh Khoshkar.
Besides, Gilan offers the best quality herbal and poultry products such as rice, tea, walnut, olive, pomegranate, citrus fruits, fish, and caviar.
Many tourists buy these local delicious and high-quality products and take them with them as a souvenir from this lush and fertile land of Iran.
Moreover, there are numerous traditional and local restaurants in Gilan province. Many tourists go there to eat homemade local foods. Sitting on the balcony of the restaurant and enjoying eating delicious Gilani food while mesmerized by the breathtaking view of the surrounding area is a lifetime experience.
Taste Iran better on our Persian Food Tours!
Ardabil
Asalem to Khalkhah > Hir > Ardabil > Sarein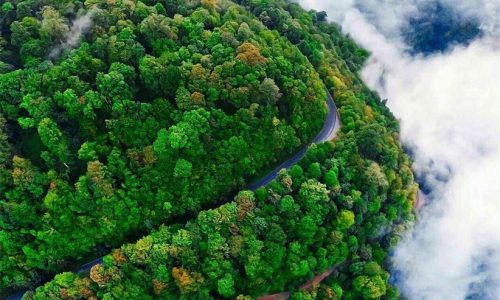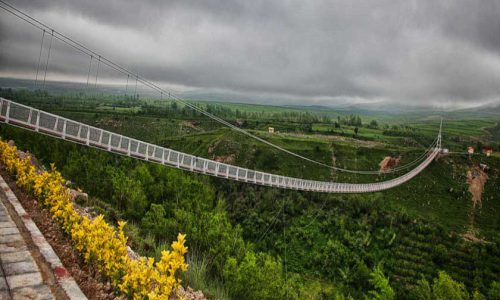 Ardabil province is located in the northwest of Iran, bordering the neighboring country Azerbaijan. It embraces Mount Sabalan (the third highest mountain in Iran with 4811 m in height) and the verdant Arasbaran Forest. It is 70 km away from the Caspian Sea. Ardabil is a green land embracing incredible natural and historical attractions. Many eco-tourists and nature lovers travel to this part of the country every year.
There are numerous natural and man-made amazing attractions in the province such as Shorabil Lake, Neor Lake, Meshginshahr Suspension Bridge, Fandoqlu Forest, Dasht-e Moghan (Moghan Plain), Gavmish Goli Hot Water Spring, Alvares Ski Resort, Ardabil Natural History Museum, Aghazadeh Traditional House, and the traditional roofed bazaar. Ardabil is also famous for the best quality honey and Ashe Doogh (a kind of yogurt soup).
The road from Asalem to Khalkhal is the dreamiest path in Iran which is 70 km long. The winding spectacular road starts from Asalem, Gilan, extends along the mountains, dense forests, and green plains, and ends in Khalkhal, in the southern part of Ardabil province. The beautiful river along the road is most of the time visible. On the road, usually covered in fog due to its high altitude, you will enjoy occasional rains and mesmerizing river sound. The spectacular nature, honey beehives arranged in the green plains covered with colorful flowers, beautiful villages, hospitable villagers, herds of horses and sheep, and nomadic areas are some of the highlights of this spectacular route.
Along the road, different local restaurants and stores are offering organic local products such as natural honey and fresh bread. Moreover, the Kivi Thermal Spring is located near Khalkhal where you can experience some relaxing moments. Asalem to Khalkhal is a perfect destination for nature lovers, trekkers, bikers, and photographers who travel to Iran. Along this road, be prepared with your camera all the way through to capture the special moments. The road is not recommended in heavy snow.
Ardabil province is famous for suspension bridges. Hir, a city with a pleasant climate, is located in the south of Ardabil. It is known as the city of cherry blossoms due to its orchards and cherry trees. The city is also famous for one of the most exciting suspension bridges in Iran. Hir Glass Suspension Bridge, built over the valley and a roaring river, is a good option for those who are seeking some adventure or an adrenaline rush. It is the first arched glass suspension bridge in the world. It is 200 m long, about 100 m high, and 1.2 m wide, covering an area of 20 ha. The thickness of the glass is 3 cm. Other recreational facilities in this region include a zip line, bungee jumping, a trampoline, and a playground.
The city of Ardabil, the capital of Ardabil province, is located on the sidelines of the old famous Silk Road. One of the most prominent attractions in Ardabil is the tomb of Sheikh Safi al-Din Ardabili (UNESCO). Sheikh Safi was the grandfather of the founder of the Safavid dynasty and one of the Sufi masters of his era. The tomb was built after his death by his son. Sheikh Safi al-Din Khaneghah and Shrine Ensemble were constructed between the beginning of the 16th century and the end of the 18th century.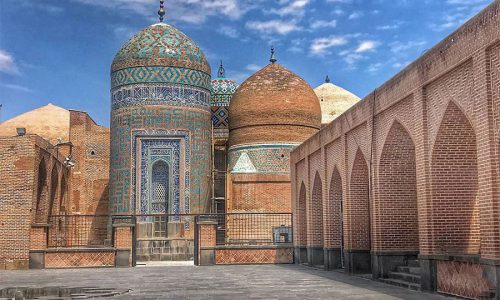 This exquisite complex is a masterpiece of Timurid and Ilkhanid architecture. It is an extraordinary collection of tile working, muqarnas, calligraphy, delicate inlays, gilding, and wonderful plastering. The complex consists of different parts such as Chini House, Janatsara Mosque, Khanghah, Chellehkhaneh (a praying room), the burial ground of the martyrs, Cheraghkhaneh (house of lights), and Andaruni or women-only space. Here is also the tomb of Shah Ismail I (the founder of the Safavid dynasty), his wife, and several Safavid princes.
It seems impossible to visit Ardabil without visiting Sarein. Sarein is a small tourist city with hospitable locals and is located 30 km west of Ardabil. The city is globally known for its hot springs and remedial spas that originate from Sabalan Mount. Many tourists come to this city every year to relieve their joint pains.
Gavmish Goli Hot Water Springs, Qara Su Spa, Sabalan Hydrotherapy Complex, and Shafa Bath Spa are some of the most famous. These springs attract many tourists from around the country, neighboring Arabian countries, and the world every year. Moreover, Ardabil has two cold water springs with fizzy water.
Ardabil is a destination for all four seasons. The spring and early fall are the best time to enjoy its eye-catching nature. Due to its cool weather, it is also a wonderful summer destination. In the winter, you can enjoy its snow-covered ski pistes as well as its numerous hot springs.
What to Do / See in Ardabil
Scenic roads

Suspension bridges

The tomb of Sheikh Safi al-Din Ardabili (UNESCO)

Hot springs and Spas

Ski resorts
Where to Stay in Ardabil
Rezvan Hotel (4-star) in Sarein is convenient and has easy access to the city center, shopping centers, hot springs, and spas. The hotel offers water recreational facilities as well.
Boostan Hotel is another 4-star accommodation in Sarein. The rooms here are equipped with a Jacuzzi and there is also a VIP Jacuzzi for private use by families at an extra charge.
Sarein enjoys a wide range of accommodations for every budget due to the great number of tourists and travelers. There are lots of apartments and suites with affordable prices across the province, especially in Sarein which is often crowded due to its hot springs and spas.
To reserve budget-friendly apartments and other kinds of accommodation, please contact us.
What to Buy / Eat in Ardabil
Ardabil is well-known for its hand-woven carpets, rugs, kilims, jajims, embroidery, silverwork, and inlay works.
Other handicrafts such as painted leather bags and carved glass pots, as well as traditional musical instruments, are also popular among visitors. It is also famous for natural honey production, especially the honey that comes from the Sabalan area. Dairy products of this province are of high quality too, especially butter and clotted cream.
Since many residents of the area are Azeri, no wonder to hear Azeri names and dishes here, such as Qara Halva or Black Halva which is a kind of sweet dessert made of wheat and walnut. Its dark color is because of grape concentrate.
Baghlava, Honey Qottab, Nan-e Berenji (made of rice flour), and Rasteh Chocolate are other sweet souvenirs in Ardabil. The dried fruits and nuts especially sunflower seeds of Ardabil are of the highest quality as well. The most famous traditional food in Ardabil is Ash-e Doogh (a kind of yogurt soup with rice, beans, and greens) which could be served either warm or cold.
How to Travel to Iran from Oman
Flights between Iran & Oman
There are flights from Muscat to Tehran and Shiraz, and vice versa, by Oman Air and Salam Air. For detailed information please check the links below:
Travel by Plane across Iran
MAZANDARAN AIRPORTS
Mazandaran embraces three airports of Sari International Airport, Noshahr Airport, and Ramsar Airport.
Ramsar Airport is the only coastal airport in Iran. There are daily flights from Tehran to Ramsar and vice versa. There is also one flight a week from Mashad to Ramsar.
GILAN AIRPORT
Rasht International Airport, called Sardar Jangal Airport, has daily flights from Tehran, two to three flights from Shiraz, five flights from Mashad, and two flights from Kish Island to Rasht and vice versa.
ARDABIL AIRPORT
There are flights from Tehran to Ramsar and vice versa every day. There are two flights from Mashhad to Ardabil and vice versa every week too.
Travel by Train across Iran
MAZANDARAN
There are daily trains from Tehran to Sari and vice versa. There are also trains from Mashhad to Sari every other day.
Apart from the spectacular view, the Tehran-Sari route is also a part of the UNESCO World Heritage of Trans-Iranian Railway.
GILAN
There are trains from Tehran and Mashhad to Rasht every other day.
Please note that the above flights and train information are subject to change.
There is much more to northern Iran and this article just scratched the surface. To tailor your favorite itinerary, contact us.
Thetis Persia wishes a memorable trip for our amazing Omani neighbors.