Even in the beginning of our era the Silk Road connected such powerful ancient empires as Rome, Parthia, Kushan and China.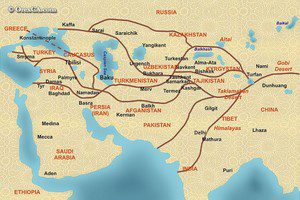 Parthianempire in Near and Middle was defeated in 224 and conquered by Sassanid Iran, the powerful state which managed to expand its territory considerably.
Internationaltrade was crucial for Sassanid Persians. The major routes across Iran developed basically by the beginning of the 1st century AD. The branch of "imperial road" starting in Herat (now in Afghanistan) led northward to Merv and further to Samarkand where that road possibly merged with the Silk Road from China across the oases of Eastern Turkestan. The area of Asia Minor and Syria was connected with the Silk Road by overland road leading along the Euphrates to the harbors of the Persian Gulf, or by ancient caravan route from Syria across Iran.
Luxury goods, Chinese raw silk and Indian goods such as jewels, aromas, opium, and spices delivered to Iran mainly by land, were the most popular.
iran cities on silk road
Rasht
Rey (or Ray in modern-day Tehran)
Hecatompylos(Damghan)
Sabzevar
Nishapur
Tus
Bam
'' the world is a book , and those who do not travel read only a page"
– St. Augustine
———————————————Ο——————————————