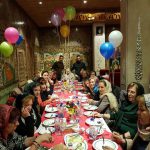 Hi Sharareh, I am sending you this email as feedback from our Trip to Iran. First of all the clients had a very good time and they enjoyed the trip. Everybody was very happy. I start with the positive things and then i will talk about the negative one: Ahmad was excellent! The clients were extremely happy with him, they created a good relationship. He is smart, and knows how to handle the situations. Because it has happened to me to work with not-so-good guides, i can say that this made the overall trip much better! The Bus was great! And
…
Hi Sharareh,
I am sending you this email as feedback from our Trip to Iran.
First of all the clients had a very good time and they enjoyed the trip. Everybody was very happy.
I start with the positive things and then i will talk about the negative one:
Ahmad was excellent! The clients were extremely happy with him, they created a good relationship. He is smart, and knows how to handle the situations. Because it has happened to me to work with not-so-good guides, i can say that this made the overall trip much better!
The Bus was great! And this was crucial, as we spent a lot of time on it! Also the driver was very kind and good towards the clients.
Hotels in General were very good, and the whole itinerary was set up in a good way.
Now regarding negative point , that actually did not affect the trip, but it is quite important:
You should have informed me that Esteghlal Hotel had a renovated wing and an old one. Because clients found it out, and it was not good to happen at the very first day of the trip! They thought that i had chosen it!
Thank you very much and looking forward to your response!
Dimitris - Greece