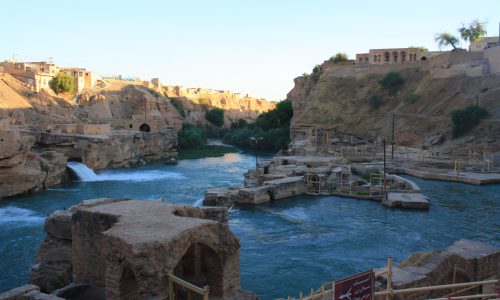 Morning at 0800 am your guide will pick up you from your hotel in ahwaz and drive to shushtar ( 85 km) . Shushtar is an origin of civilization in Iran. We visit shushtar water mills , The construction of Shushtar watermills began during the Achaemenid period and ended in the Sassanid era. These waterfalls are also known as the historical hydraulic system of Shushtar.In this large complex, there are mills, waterfalls, canals, massive water tunnels, and waterfalls for the relaxation of visitors. UNESCO has inscribed Shushtar waterfalls in its World Heritage Sites' list.then we will visit The traditional bazaar of Shushtar which has not only a beautiful local architecture but also many good souvenirs for visitors to buy . there are several houses in shushtar which worth to visit as well like Saray-e Afzal (Afzal House) , Tabib-e Shushtar Historical House , Aminzadeh House Mostofi House. then we visit Salasal Castle and bridge of Valerian which built by the Sassanids, using Romans prisoners of war as workforce, in the 3rd century AD , it was also the most eastern example of Roman bridge design and Roman dam, lying deep in Persian territory . we will back to ahwaz at 1600.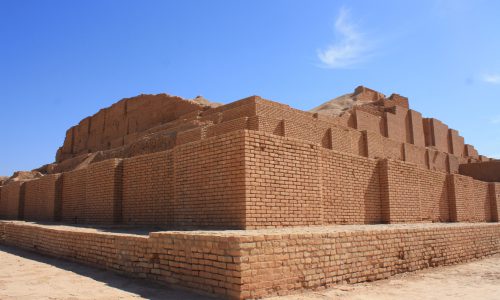 Morning at 0800 am your guide will pick up you from your hotel in ahwaz and drive to Susa ( 191 km) to visit chogha zanbil ziggurat ( unesco world heritage ) . chogha Zanbil comprises the ruins of the holy city of the Kingdom of Elam, centered on a great ziggurat and surrounded by three huge concentric walls.Founded around 1250 BC, the city remained unfinished after it was invaded by Ashurbanipal in 640 BC. Its ziggurat is considered to be the best-preserved example in the world. It is one of the few extant ziggurats outside of Mesopotamia. The complex is protected by three concentric walls, which form three main areas of the "town." The inner area is wholly taken up with the great ziggurat dedicated to the main god. The middle area holds eleven temples for lesser gods. In the outer area are royal palaces, a funerary palace containing five subterranean royal tombs, and a necropolis containing non-elite tombs. then we will visit the ruins of Haft Tepeh which is another Elamite archaeological site composed of many individual mounds, forms an imposing mass rising about the surrounding plain. The number seven, haft in Haft Tepe, the "Seven Mounds," is used loosely to indicate the number of mounds in this large archaeological complex.after lunch we will visit The Apadana of the Palace of Darius in Susa , The Apadana (audience hall) of the Palace of Darius in Susa (Iran) was a large hypostyle room of 36 columns. Measuring 109 metres (357 feet) on each side, it was very similar to that of Persepolis in plan and dimensions with distinctive Persian columns, topped by two bulls . then we visit Susa museum and Acropol castle . after that we visit Danial tomb , The Tomb of Prophet Daniel , is the traditional burial place of the biblical prophet Daniel. Various locations have been named for the site, but the tomb in Susa, Iran (Persia), is the most widely accepted. We will back to ahwaz hotel at 1700.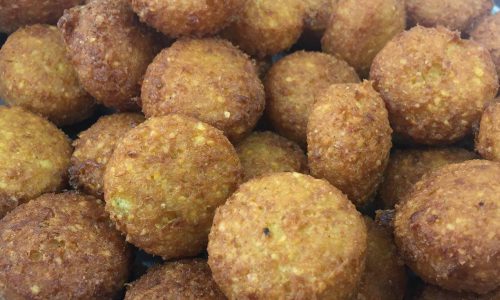 Ahwaz city tour and street food
Ahvaz is one of the unique tourism cities in Khuzestan , which has a variety of Arab, Lur and Bakhtiari tribes that live side by side. Ahvaz divided into two parts by the Karun River, there are several bridges worth to see white bridge , black bridge , ajam historical bridge , In general, the western part of the city includes more populated areas such as Kianabad, Golestan and Kianpars. Besides, Clock square is one of the famous squares of Ahvaz considered as the central core of the western part. Moreover, the eastern part of Ahvaz city mostly includes shopping malls and different markets. One of the most traditional markets in Ahvaz is a market called Abdolhamid Bazaar located in the eastern part of Ahvaz. Christian catholic church is one of the site we will visit then Museum of Contemporary Art which is one of the tourist attractions which operates in 2 floors with its different galleries. Ahwaz has a variety of weather conditions, but its best season is winter and spring, which is usually not dusty and has a very beautiful nature. the existence of different cultures and ethnicities in this city has caused a high variety of local and traditional cuisines in Ahvaz. Lashkarabad is one of the famous districts of Ahvaz, located in an Arab neighborhood. In this neighborhood, you will see various food shops such as falafel, samosa, and fried mushrooms. Also, most of these shops are self-service and you can enjoy the most delicious falafels in Khuzestan.Besides.Moreover, most of the city's cuisine is spicy and has a completely unique color and smell. Other popular cuisines in the city include samosa, shrimp, pakura, ranginak, nafeleh, saboor fish, hamis cub and alkaline fish. So, we are familiar with some of the famous foods and their ingredients.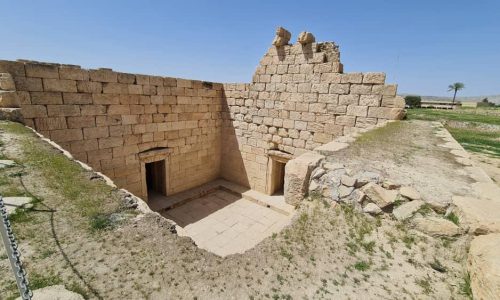 Ahwaz to shiraz tour with stop at bishapour
Morning at 0800 am drive to shiraz (539km) on the way we will visit Bishapur (unesco heritage ) which was an ancient city in Sasanid Persia (Iran) on the ancient road between Persis and Elam. The road linked the Sassanid capitals Estakhr (very close to Persepolis) and Ctesiphon.then we will visit Anahita temple which is one of the most famous buildings in ancient city of Bishapur . This cubic structure is about 14 high and was built with clean cut stones attached together with metal staples inspired by Acheamenid architecture in Sassanid period. The roof was open due to the easy flow of water into the Shapur River so that the stored water could be drained off the aqueduct near the temple. Furthermore, the temple has no ceiling and was built 6 meters lower than the surface to direct the flow of Shapur river into it.It is a building without parallel. Once you've descended the stairway, you will find yourself on a small square, surrounded by high walls. The square itself must have been an undeep pool, surrounded by sidewalks. The doors in the walls give access to a corridor that surrounded the square, and which in turn gave access to the place where the aqueduct reached this square building.Just beside the ancient city of Bishapur, there are six bas reliefs of Sassanid Era in Tang-e Chogan valley. Some inscriptions of Sassanid kings on the four corners around a river in this valley are invaluable heritages. In the Chogan Valley, on the precipice of the mountain and on both sides of a river, many carvings can be distinguished: Two men on their horses standing face to face and a third person bending on his knees stretching his hands as though begging for forgiveness. It seems to be an impression of Shapour on a horse , with curly hair and a crown of a monarch. Above Shapour's head there is an angel with a horn. On two sides of the carvings, are two arches, in each of which three people are encarved. It seems that Shapour is apparently receiving people with gifts for him. This shows Shapour with two armed soldiers on their horses. One of them is giving a ring to the other. then we drive to shiraz and check in at hotel.